Joined

Jul 15, 2009
Messages

228
Reaction score

0
Points

16
Ben, TLC, and I are entering a charity race on Saturday in DC. It is the running of the chihuahuas. LOL Well yesterday Fox 5 DC had a promo for the races Saturday so Ben and I went out to help.
BG was in the first heat (dad orange sweatshirt) and Sonny in the second heat. The first run BG was a little confused. They delayed it a little due to live TV and the ground was wet (it was still drizzling) so she did not do a very good job. She lost me in the crowd and just followed the other dogs. Sonny Won his heat! Round two came and BG did better but she stops and prances across finish line LOL and Sonny beat the reigning champ by 1/2 a field LOL. Last round (in their Redskin gear) they both won their heats. Neither ran full speed they both kind of jogged
but they had fun.
Sonny and Ben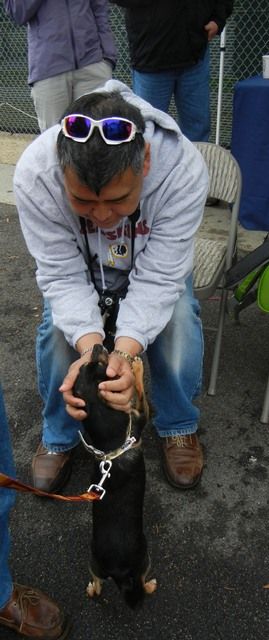 The link to watch the races online
http://www.myfoxdc.com/story/22115940/holly-liverunning-of-the-chihuahuas#axzz2S2qgxrNZ
BG & Sonny ran for the Redskins in segment 3 (they wanted costumes so Ben and I agreed on Skins Gear)
Enjoy!
Last edited: