Joined

Apr 1, 2011
Messages

9,474
Reaction score

0
Points

0
Location
For the first time in a while yesterday, we decided we were long overdue for having a day as a family to just chill and do whatever. We got up early and decided we were going up to Cape Charles to play on the beach and do some fishing.
The kids definitely approved. My daughter wasn't thrilled about having her picture taken, but my son was more than game, and thought this beach was the coolest thing in the world.
[media]http://i11.photobucket.com/albums/a167/nomoreyuppies/Dillon.jpg[/media]
Within 10 minutes of being out there, I am jigging for Flounder when a local laughs at me and tells me there are none out there. Almost immediately after those words leave his mouth, I catch this beauty. It was 20 inches and just over 4 pounds.
After I get him in the cooler, I go right back to the same spot, where another local tells me jigging doesn't work. As he walks away shaking his head, I hook this one. He was 22 inches and almost exactly 5 lbs.
I had to have fun and joke around with both guys. I told them I was gonna catch a bigger one just for added effect, and 15 minutes later, I landed my biggest. 25 inches and 6 pounds. Easily the biggest Flounder I have ever caught.
For her part, my wife decided she wouldn't be outdone, so she landed what could quite possibly be the world's smallest Flounder.
After about an hour of no bites, my wife said she wanted to crab, but we didn't bring any traps. Not to worry, within minutes I hooked one of these while jigging. It was my first of 3 that I caught throughout the day. I also caught a Hannah Montana rod that the guy next to me said his granddaughter accidentally lost a hold of the day before. He gave her a call, and she acted like she won the lottery
[media]http://i11.photobucket.com/albums/a167/nomoreyuppies/Crabtrap.jpg[/media]
After 4 hours of crabbing, we had more than enough to make a meal. After dead loss, we ended up with 47.
One of the most interesting points in the day was when a boat came out of the water and flew by. I decided immediately I wanted one, until I was informed they run about $20,000.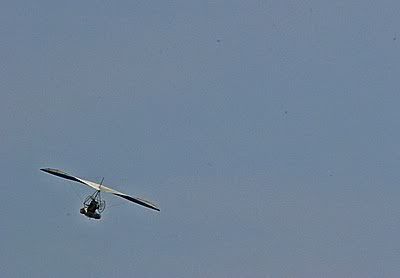 The day wasn't completely perfect though. My daughter got stung by whatever the hell this is.
My wife broke her big toe on a rock in the water (she won't let me get a picture, but it's gross) and I ended up with a bit of a sunburn that will be a sweet farmer's tan
But dinner tonight made it worth it. I was too tired to mess with it when we got home yesterday, but it was worth the wait. I stuffed the Flounder with crab, panko and Old Bay. For sides, I steamed asparagus and put some sauteed portabella mushrooms and lemon juice on it, and I made some new potatoes with garlic, butter and dill. Good eats, and an awesome end to an awesome time.
Last edited by a moderator: