Burgundy & Gold Jacket
Staff member
BGO Ownership Group
Joined

Apr 11, 2009
Messages

9,893
Reaction score

1,117
Points

419
Location
Alma Mater
HEAD COACH MIKE SHANAHAN
HEAD COACHING RECORD
​
1988 Los Angeles Raiders 7-9 (.438)
1989 Los Angeles Raiders 1-3 (.250)
1995 Denver Broncos 8-8 (.500)
1996 Denver Broncos 13-3 (.813) - Lost to Jacksonville in AFC Divisional Game
1997 Denver Broncos 12-4 (.750) - Super Bowl Champions
1998 Denver Broncos 14-2 (.875) - Super Bowl Champions
1999 Denver Broncos 6-10 (.375)
2000 Denver Broncos 11-5 (.688) - Lost to Baltimore in AFC Wild-Card Game
2001 Denver Broncos 8-8 (.500)
2002 Denver Broncos 9-7 (.563)
2003 Denver Broncos 10-6 (.625) - Lost to Indianapolis in AFC Wild-Card Game
2004 Denver Broncos 10-6 (.625) - Lost to Indianapolis in AFC Wild-Card Game
2005 Denver Broncos 13-3 (.813) - Lost to Pittsburgh in AFC Championship Game
2006 Denver Broncos 9-7 (.563)
2007 Denver Broncos 7-9 (.438)
2008 Denver Broncos 8-8 (.500)
16 yrs 146-98 (.598)
14 yrs DEN 138-86 (.616)
2 yrs OAK 8-12 (.400)
Playoff Record: 8-5 (.615)
Games over .500: 48
Super Bowl Wins: 2
Overall Championships: 2
Conference Championships: 2
Division Championships: 4
Video Interview (Adam Shefter, after Denver Firing)

DenverBroncos.com Profile

Pro-Football-Reference.com Profile

Inside The Mind of Mike Shanahan (Wall Street Journal)

Coaches Vote Shanahan Best Sideline Coach (CBS Sportsline)

Credit Shanahan for Orchestrating Denver's Rise (SI Vault)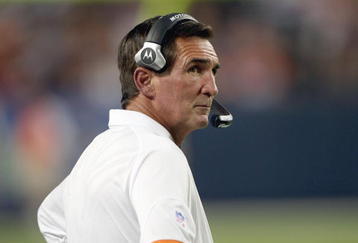 ACCOMPLISHMENTS
​
• Became one of two clubs in the NFL (New England) to win multiple Super Bowls since 1995 with back-to-back victories in Super Bowl XXXII and XXXIII (1997-98).
• Posted the most wins in pro football history in a two-year period (33 from 1997-98; New England since won 34 from 2003-04).
• Posted the most wins in pro football history in a three-year period (46 from 1996-98).
• Won the most playoff games in pro football history over a two-year period (seven from 1997-98).
• Won 18 consecutive games from 1997-98 to tie the all-time NFL record at that time for consecutive wins. The Broncos went undefeated for a calendar year during that streak from Dec. 15, 1997, until Dec. 13, 1998.
• Went undefeated at home for three consecutive regular seasons (1996-98), becoming just the second team ever to be undefeated and untied at home in three consecutive years.
• Posted a 22-2 record in their final 24 games during the back-to-back title years.
• Totaled the most overall yards in the NFL (74,727 yds., 359.3 ypg.).
• Recorded the most rushing yards in the NFL (29,131 yds., 140.1 ypg.).
• Scored the third-most points in the NFL (5,079 pts., 24.4 ppg.).
• Registered the best home record in the NFL during regular-season play (79-25 / .760).
• Posted a 74-4 (.949) record when scoring 30 or more points (4-0 in postseason), a total that includes a 44-1 (.978) mark in home games (2-0 in postseason).
• Totaled a 104-30 (.776) record when registering an even or positive turnover ratio, including a 40-4 (.909) mark with a turnover ratio of +2 or better.
• Recorded the best first-quarter point differential (+485 / 1,177-692) in the league.
Shanahan in 2006 coached through his 200th career regular-season game, and his 125 wins at that milestone tied for the third most by a coach in the Super Bowl era (since 1966). He also guided Denver to a winning season (9-7) for the fifth consecutive year to tie a franchise record.

In 2004, he joined the exclusive club of head coaches to post 100 wins in his first 10 seasons with one club, finishing the campaign and decade tied for fourth on this ultra-impressive list of 12 coaches, seven of whom are in the Pro Football Hall of Fame.

His stunning record as the Broncos' head coach places him in the legendary class of Vince Lombardi, Don Shula, Chuck Noll, Jimmy Johnson and Bill Belichick as one of six coaches with back-to-back Super Bowl championships. Lombardi, Shula and Noll already have been inducted into the Pro Football Hall of Fame.

The 2008 Broncos are determined to return to Super Bowl contention under Shanahan, who became the first coach in NFL history to post seven playoff wins (all consecutive) in two seasons during Denver's 1997 and '98 World Championship runs. Firmly established among the game's sideline greats, Shanahan's eight playoff wins are the most by a head coach in Broncos history while his career postseason winning percentage stands at an impressive .615 (8-5).

However, whether measured by record or tenure, Shanahan does not rest on his laurels, nor allow his team to even though in the past 13 seasons his overall record of accomplishment has been unmatched. His accomplishments since taking command of the Broncos are far greater than most coaches have achieved in entire careers, yet Shanahan does not live in the past. Instead, he puts all of his ample talents and energy into success for the present, thus stamping the 2008 Denver Broncos as a team to be reckoned with in the National Football League.

Despite the almost unparalleled level of success attained in the last 13 years, complacency and satisfaction are qualities completely foreign to Mike Shanahan, a brilliant coach and leader who is perpetually driven by the goal of taking his team back to the Super Bowl.

The Broncos stand as the perfect symbol of a team manifesting the personality of its head coach— maintaining discipline, focus, preparation, mental toughness and physical effort—all qualities indelibly stamped onto the franchise by Shanahan, whose superb guidance directed the Broncos to those victories in Super Bowl XXXII and XXXIII as well as an appearance in the AFC Championship Game in 2005.

Shanahan elevated his career and the Broncos to new levels in 1997 and 1998 as the intense and personable Denver Broncos head coach made his mark on Super Bowl history. He enters the 2008 campaign as one of only 12 all-time National Football League head coaches with two Super Bowl victories and one of two members of that exclusive fraternity actively coaching (Bill Belichick of New England). Within that select group of 12 coaches, six have been inducted into the Pro Football Hall of Fame—the previously referenced Lombardi, Shula and Noll along with Joe Gibbs, Bill Walsh and Tom Landry.

Following his magnificent 1998 season, the Broncos' coach was named AFC Coach of the Year by the Kansas City 101 Club and by the Touchdown Club of Columbus (his second time to be honored by each organization).

He became the first coach in history to win two Super Bowl titles in his first four years coaching a team and is the only coach to have directed two different teams to a 500-point season (the 1998 Broncos scored 501 points, and Shanahan helped San Francisco in 1994 score 505 points as offensive coordinator). The 500-point mark has only been reached 11 times overall in pro football history.

The architect of San Francisco's offense in the 49ers' 1994 World Championship season, Shanahan not only can boast of three world titles in the past 14 years, but he became one of only 11 coaches ever to win Super Bowls with two different clubs.

Not only did Shanahan reach the aforementioned 100-win plateau in 2004, but in 1998 he reached his 40th win faster than any coach in franchise history, and in 2000 he reached his 50th win faster than any coach in franchise history. Team President and CEO Pat Bowlen heaped additional praise on his brilliant coach by naming him Vice President of Football Operations during the 1998 campaign. While his seal of leadership already had been permanently ingrained into the entire Broncos organization, Shanahan took his first steps in the direction of legend in 1997 when he became only the second coach in pro football history to post four wins in one postseason.

In his third and fourth seasons at the helm of the Denver Broncos, Mike Shanahan led the Broncos to their first Super Bowl victories and in 1998 became the only coach in NFL history to fashion seven postseason wins in a two-year period.

Mike Shanahan has that exceptional postseason record of 8-5, which added to a regular-season mark of 130-78 give him a combined record of 138-83 (an outstanding .624 winning percentage) in 13 years as head coach of the Broncos. His record and winning percentage are the best by a head coach in Denver history and include a staggering 79-25 (.760) home record in regular-season play. His winning percentage in six years at Mile High Stadium (1995-2000) was .813 (39-9) to mark the third best by one coach in one stadium in NFL history.

Since Shanahan took over the Broncos' coaching reins in 1995, Denver has scored 30 or more points 45 times (twice in postseason) at home and 20 or more points 90 times (five times in playoff action) at home in 104 regular season and six playoff games. Including road games, the Broncos have scored 30 or more points 78 times (including four times in the playoffs) and 20 or more points 160 times (including nine times in the playoffs) in the 208 regular-season games and 13 postseason games under him. As noted above, Denver's record in the 78 games in which it has scored 30 or more points under Shanahan is an amazing 74-4 (4-0 in playoff competition), including a 44-1 mark (2-0 in postseason) at Mile High Stadium and INVESCO Field at Mile High.

Renowned for his organizational ability and recognized as one of the brightest offensive strategists in football, Shanahan has restructured both the team and the entire football operations department of the Broncos to deal successfully with the new personnel and financial dynamics of pro football. Over the last 16 years (13 in Denver and the previous three in San Francisco), Mike Shanahan's offenses have finished No. 1 in the NFL four times, second twice, third three times and fourth once. In two of those campaigns, Denver was just 17 and 83 yards short of the number one spot.

Since 1995, his first year in Denver as head coach of the Broncos, Denver has stressed the running game as one of the keys to football's most prolific offense. In those 13 seasons, the Broncos have led the NFL in rushing yards (29,131) and total yards (74,727) while ranking second in the NFL in first downs (4,324) and third in points scored (5,079). As those statistics would indicate, this has been by far the most prolific 13-year offensive period in franchise history.

In 1998, the defending world champions stormed to their second consecutive title with an offense that scored 501 points and finished third in the NFL in total yards while the defense had another spectacular postseason, allowing just 25 points and two touchdowns while sparking a remarkable +12 turnover ratio (13 takeaways, 1 giveaway) in the playoffs.

The 1998 Broncos set team records with 14 regular season and 17 overall wins, starting off with a stunning 13-0 record and marking Denver as a team that went an entire calendar year without a loss.

Ten Broncos were named to the Pro Bowl following that magnificent season, but throughout it all Shanahan's inspired direction was nationally recognized as the driving force behind the back-to-back World Champion Broncos.

He directed a Denver offense that scored a total of 583 points (29.2 per game) during the entire 1997 season, the fifth-highest total in NFL history at the time (currently 10th all-time) and the second-highest total in AFC history at the time (currently fourth all-time) for a combined regular season and postseason. Of course, Shanahan's Broncos in 1998 topped that mark by producing 596 regular season and postseason points for the fifth-highest mark in league annals at the time (currently ninth all-time). With Shanahan coordinating their offense, the 1994 World Champion San Francisco 49ers set a then-NFL record with 636 points for the regular season and playoffs, a total that now stands second to the New England Patriots' 655 points scored in 2007.

Shanahan led his team to a 12-4 regular season record in 1997, marking the first time in franchise history that the Broncos won 12 or more games in back-to-back seasons. His high-powered offense reached 30 points a franchise record nine times during the 1997 regular season and twice in the postseason. Denver also broke the franchise record for most points in a season (previously 391 in 1996) in just its 13th game of 1997 and broke the record for most touchdowns in a season (previously 47 in 1996) in just its 14th game that year.

The Broncos stormed through 1997 postseason play to their eventual World Championship with a home win over Jacksonville and subsequent road victories at Kansas City and Pittsburgh, defeating those Super Bowl contenders in their home parks on back-to-back weeks and answering any lingering questions about the status of Denver as the best team in the American Football Conference.

It has been widely documented that the Broncos posted one of the greatest upsets in Super Bowl history in 1997 against Green Bay, played in perhaps the best Super Bowl game ever, and ended the National Football Conference's 13-year domination in the NFL's Championship Game.

The Broncos earned their win—in fact, their four postseason wins in 1997—in convincing style. Under Mike Shanahan's steady control and forceful leadership that season, the Broncos had no question that they were the best team in football, and their postseason performance reflected that belief every step of the way. In 1997 postseason play, Denver scored nine touchdowns in nine goal-to-go situations, including four-of-four in Super Bowl XXXII. Conversely, opponents started six drives in Denver territory in the postseason, netting just six points (two field goals).

Denver scored 13 touchdowns in 16 red zone opportunities in the playoffs and of the Broncos' 46 postseason possessions, Denver scored 16 times (14 touchdowns and two field goals), accomplishing that feat against teams with a combined record of 51-16 at the time of each game.

The Broncos had posted the biggest win by a sports team in Colorado history and one of the most significant in NFL history against the Packers in Super Bowl XXXII, all with Shanahan pointing the way. The Broncos had entered the playoffs as a wild card, but their head coach never let the team's compass waver even slightly from the only goal he had ever set.

Under Shanahan's tutelage, the Broncos led the entire NFL in total offense in 1996 after having rewritten the Denver record books in 1995.

Shanahan in 1996 led his club to a 13-3 record that was the best in the NFL as well as the finest record in Denver history, earning both NFL Coach of the Year (Touchdown Club of Columbus) and AFC Coach of the Year (Kansas City 101 Club) honors that season.

His team's performance in 1996 gave notice that this is a regime driven by a single goal, that of taking the Broncos to the pinnacle of pro football success. The Broncos were undefeated in October and November as they ultimately built their record to 12-1 in clinching their division title and playoff berth on Dec. 1, thus becoming one of the earliest teams to clinch in NFL history. While the disappointment of Denver's 1996 playoff loss to Jacksonville gripped Shanahan as much as it did the entire region, it also served to further his resolve to return the Broncos to that level once again.

In his first season as the Denver Broncos' head coach in 1995, Shanahan improved the team to a .500 record (8-8) and contention in the very competitive AFC West while immediately stamping the Denver offense with his signature as the most productive unit in the AFC, finishing third in the entire NFL. Under Shanahan in 1995, the Broncos had the best offense in franchise history, breaking team records in points scored (388), total yardage (6,040), total passing yardage (4,260), first downs passing (205) and highest average gain per play (5.7) while tying the team records for touchdown passes (27) and average gain per rush (4.5). At the same time, the Broncos' defense improved 13 positions, from last in the NFL the previous year to 15th under Shanahan's leadership.

Denver Broncos President and Chief Executive Officer Pat Bowlen named Mike Shanahan as Head Coach of his NFL franchise on Jan. 31, 1995, ushering in a new era for a team that has made five Super Bowl appearances under Bowlen's ownership. The Broncos' head coach has complete control of all aspects of football operations.

Shanahan, 56, came to Denver from the World Champion San Francisco 49ers, where he served as offensive coordinator for three seasons (1992-94). The 49ers' offense reached astonishing levels under his leadership. San Francisco's three-year offensive averages under Shanahan's direction were the most productive in the history of pro football. His three-year averages included being number one in the NFL in total points (an average of 469.7 per year), total touchdowns (60.3), rushing touchdowns (23.7), passing touchdowns (31.7), third-down efficiency (48.5%), total offense (6,230 yds.) and average yards per play (6.2).

His three-year period as offensive coordinator included the 49ers setting numerous team records during that time, including the first time ever that San Francisco led the NFL in total offense in consecutive seasons (1993 and 1994) along with remarkable records for most touchdowns (66), passing yards (4,302), total offense (6,435 yds.), first downs (372), completion percentage (70.3) and average yards per play (6.3).

San Francisco quarterback Steve Young re-wrote many NFL passing records and was named the NFL Most Valuable Player twice in his three years under Shanahan's guidance in addition to throwing for six touchdowns and earning Super Bowl XXIX Most Valuable Player honors.

During his NFL career, Shanahan has been a part of teams that have played in 10 AFC or NFC Championship Games. He also has coached in six Super Bowls—five with Denver and the Super Bowl XXIX game with San Francisco. In his nine seasons coaching at the collegiate level, Shanahan's teams participated in eight bowl games, winning two national championships.

A driving force behind the Broncos' offense for all three of their Super Bowl appearances in the 1980s (following the 1986, 1987 and 1989 seasons), he first came to Denver in 1984 as coach of the club's wide receivers. He served as offensive coordinator from 1985-87 and then returned to Denver as quarterbacks coach on Oct. 16, 1989, after serving as head coach of the Los Angeles Raiders in 1988 and through the first four games of the 1989 campaign. Shanahan inherited a team that was 5- 10 in 1987 and improved it to 7-9 his first season. After starting 1-3 the following year, he was fired. His second stint in Denver included not only the 1989 Super Bowl appearance by the Broncos but the team's fourth AFC Championship Game appearance of the Bowlen era (1991 at Buffalo) with Shanahan again serving as offensive coordinator.

A native of Oak Park, Ill. (8/24/52), Michael Edward Shanahan attended East Leyden High School in Franklin Park, Ill., where he earned numerous honors. In a student body population of 2,500, Shanahan was voted athlete of the year as well as most valuable player in both football and track. He also set a single-game school record with 258 rushing yards on 17 carries (a 15.2-yard average).

He received a scholarship to Eastern Illinois University, where he played quarterback and lost a kidney in the spring game of his junior year, which began his coaching career a year earlier than was intended. Shanahan also received his bachelor's and master's degrees at EIU.

He began his coaching career at Oklahoma in 1975-76, and the school won the national championship in his first year on its staff.

Shanahan was Northern Arizona's backfield coach in 1977 at the age of 24, and the Lumberjacks averaged a school-record 391.1 yards per game that season. A year later, Shanahan returned to Eastern Illinois as offensive coordinator and helped guide his alma mater to the Division II title. The year before Shanahan's arrival, the team was 1-10. In 1979, he served as offensive coordinator at Minnesota, where he implemented the run-and-shoot offense to help the Golden Gophers set 40 school offensive records.

Shanahan moved on to Florida the following year, inheriting the second poorest offense in Division I football as well as a team record of 0-10-1. In Shanahan's four years at Florida, the team broke many offensive school records and went to four consecutive bowl games. During his stint as a college coach, his teams had a combined record of 78-29-2 (.725).

Recognized as one of the most dynamic offensive minds in the game, Shanahan thus was an assistant coach in college at age 21, an offensive coordinator at the Division I level by 25 and at the NFL level at 32 in his first Denver stint.

Mike and his wife, Peggy, have two children—son Kyle and daughter Krystal. Kyle is a graduate of the University of Texas and is the Houston Texans' offensive coordinator. Krystal also is a graduate of the University of Texas.
*
Last edited: